About Us
I have always loved animals and feel so lucky and privileged to have my "dream job" and be surrounded by them all the time. As a professional pet sitter, my main concern is the health and well-being of your pets. I am a member of Tucson Pet Care Network, as well as licensed and bonded, and insured by Pet Sitters Associates, LLC.
Company History
"Becky The Pet Nanny" of Tucson, Arizona formally came into being in August of 2005, although I have been working with and caring for animals all my life.
Growing up we always had at least 3-4 dogs, plus various other animals forming a "family menagerie." There was always a mixture
of breeds and temperaments, giving me lots of experience
interacting with various animals and their "personalities."
Gerbils, rabbits, and fish added to the variety of pets in our
home. In addition, I spent time with cats, horses, birds, and
reptiles belonging to friends and relatives.
I received a Bachelor of Arts degree in Psychology from the
University of Arizona in 1993. After graduation I worked in the customer service field, but always yearned for something
different. The more I thought about it, the more I realized I
wanted a career working with animals, and I began pet sitting as
an Independent Contractor in 1998.
In order to gain more experience, I volunteered at the Arizona Sonora Desert Museum as a Caretaker in the Interpretive Animal Collection. When I had been there about one year, my husband and I got the wonderful news that we were going to be parents! Due of the nature of my work at the Desert Museum, I had to resign as a Caretaker, but was rewarded in the exchange with a wonderful daughter in 2003!
Wishing to stay at home with my daughter Olivia, I continued to work as an Independent Contractor pet sitter, but in August of 2005 I officially started my own business, and "Becky The Pet Nanny, LLC" was born!
I am so grateful for the opportunity to care for all my clients' wonderful pets, while being able to spend time with my young daughter and introduce her to the joy of interacting with animals.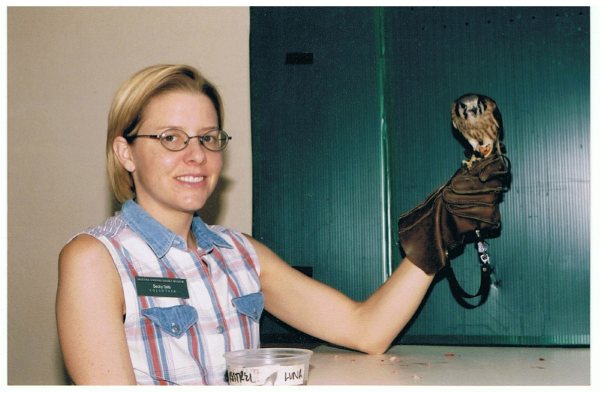 Becky feeding Luna the Kestrel.